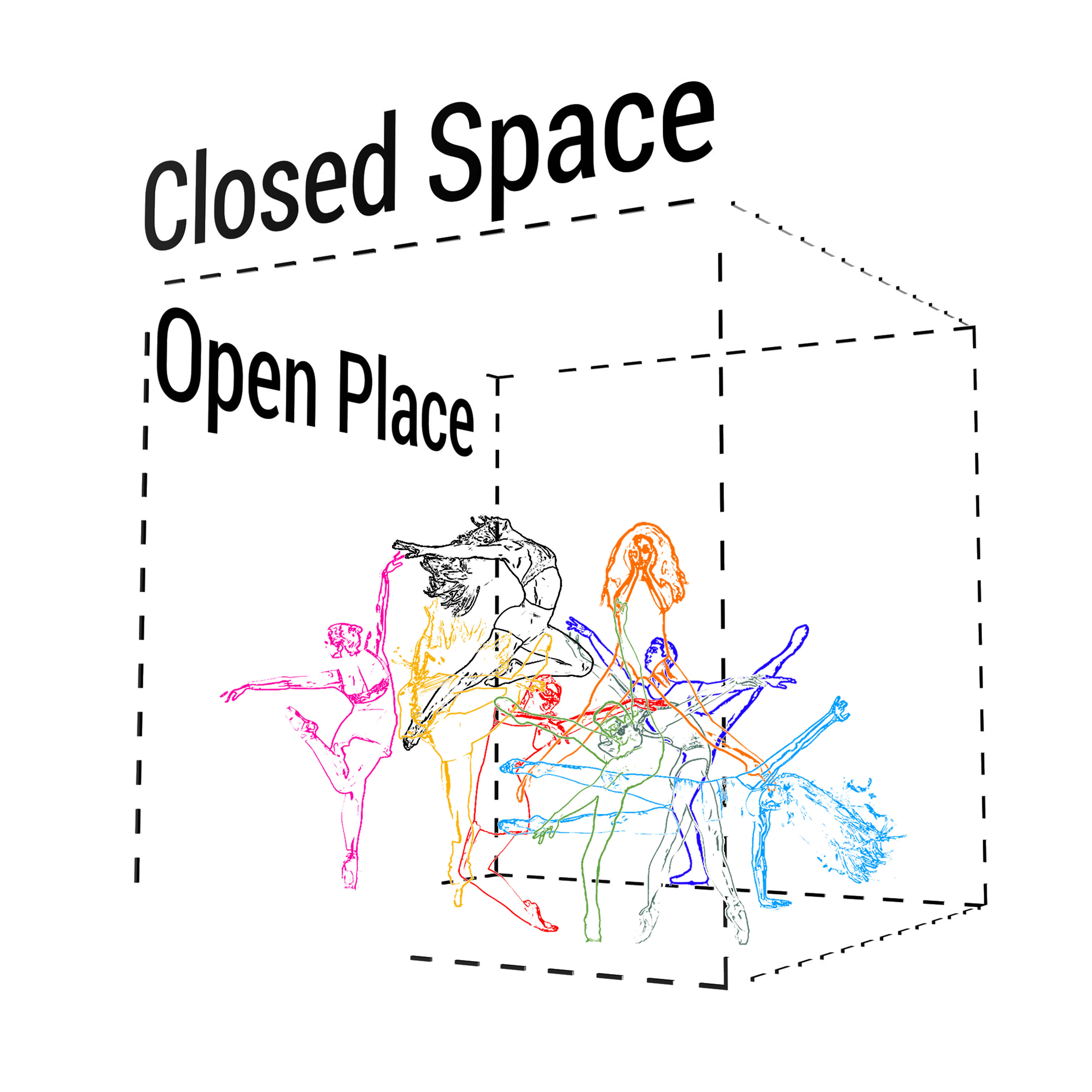 CLOSED SPACE OPEN PLACE
A collective meditation and co-creation of bodies within bodies
THE THEME
Inside and outside, dark and light, full and empty, natural and artificial.
The architecture resides in the space between the borders of such kind of opposites. On the other hand, the physical, human body, its own architecture, generates artificial forms (houses, windows, walls to contemplate nature from a safe distance).
Imagination can induce endless doubles. Cultures' beliefs and developments pretending to change the actuality of natural events. They become walls, infrastructures, bodies, bones and skin containing essences, lives, energies.
Culture shapes the closed space, a mental space materializing into shelters. Closer to us, our physical structure, looks to be the closed architecture containing all our vital organs including what we call the mind, the place of thought, of generating the abstract images of intellectual achievement, of borders, windows, screens from where to experience reality in safety and coziness. We create empty – and before imaginative, abstract – spaces attempting to fill them with culture, with abstractions becoming objects, with a chosen purpose which we attribute value to.
Walls, barriers, limits, conflicts, conditionings of any kind produced by mind and materializing in what we call space.
Or, what is a closed space?

Outside the open space. The place of the uncertainty, of the exposition to the natural events of the climate allowing us to survive or to disintegrate in the "cycles" of nature, to the exhibition and aggregation to the others. Outside is the place of the possible freedom from all conditionings, where bodies meet into relations of senses of endless possibilities.
Outside is the responsibility and the choice to give space, to generate places still not available, to create contacts and to think together as a whole intelligence moving, resounding and acting into reality.
We can get free of all the thought's conditionings, of all the conflicts of the mind, of all the Selves, of all the egos becoming one in contact and harmony with the natural mind of nature.
Or, what is an open space?

Complex questions for a commonplace we call space.
What would happen giving a different feedback to the complex issues of the contemporaneity? What can happen if we think together? If we get together to think about new ways of relation, of interconnection, of real and physical networking, contact, of co-creation?
What would happen if we answer with the simplicity of beauty to the complexity of the contemporary conflicts? Can be theatre, the reciprocal natural recognition of ourselves as a unique being humans the natural and archaic language, of the body in motion, of the dance of the movement, to discover new harmonic communications without conflicts, fears, conditionings?
THE PROJECT

"Closed Space Open Place" is an invitation to think together, to discover together what space is, through the whole body intelligence as a meditation in movement observing, interpreting, sensing, feeling, acting it.
It is a projection mapping art installation which will fill, give life and dynamic form to the space of public architectures through meditating, communicative bodies.
The body's movement and gestures become the language to pursuit a shared research about our presence and actions in the world.
This is an existential experiment seeking for what means to conceptualize and generate space.
Dancers and body performers from all over the world, from different cultures, are invited to synthesize a whole performing meditating body to combine own researches about space, its closure and its openness. A complex body will transform the inert, concrete's architecture into an alive communicative body as a co-creative combination of single communicating bodies. A composition which will become an experiment of meditation in motion as a collective endeavor to observe comprehend and understand space.
The main request for the performing researches is to suggest own perspectives, communicative acts to express by the body gesture the following theme's various opposite pairs inside a specified cube unit.
An authentic collective meditation towards a real and spontaneous communication attempt throuhg the constant researching movement of bodies: The art of moving through and disengaging from space.
The artificial bodies of the architectures and the natural human bodies will think together and experience our occupation of vital space by existence and presence through the body's language narration.
A meditation authentic, real, spontaneous communication of moving bodies: the art of moving generating space.
Bodies and architectures intepreting the space, the vital places we daily occupy with our presences.
Concept, design, direction: Pasquale Direse
Visual art / 3D projection mapping art: Pasquale Direse in collaboration with Aggeliki Tsekeni and Joao Sabbat
Choreographers & performers: Olivia Giovannini, Francesca Pedullà, Daniela Marcozzi, Lisa Rosamilia, Cristina Mendanha, Agatha Wright, Anneliese Charek, Pandzou Jean Francis, Anuya Rane, Cecile Rossant, Lea Pischke, Silke Mehler, Cristiana LaFenice Palias, Janine van Veen, Tania Gonzaléz, Matroos Compagnia, Igor Mamlenkov, Duygu Atceken, Victor Stoljarow, Koushik Podder, ArteTotal – Educação Artística, Gabriela Barros, David Ramalho, Felipe Lopes, Stefano Turriziani, Caterina Genta, Arouna, Alessandra Battaglia, Melissa Bernabucci, Miriam Frosoni, Alessia Renzi, Sharon Soetebier, Margherita De Benedittis, Gabriela Passos, Ibrahim Zongo, Lucie Lee, Nobuhiko Naruse & to be announced…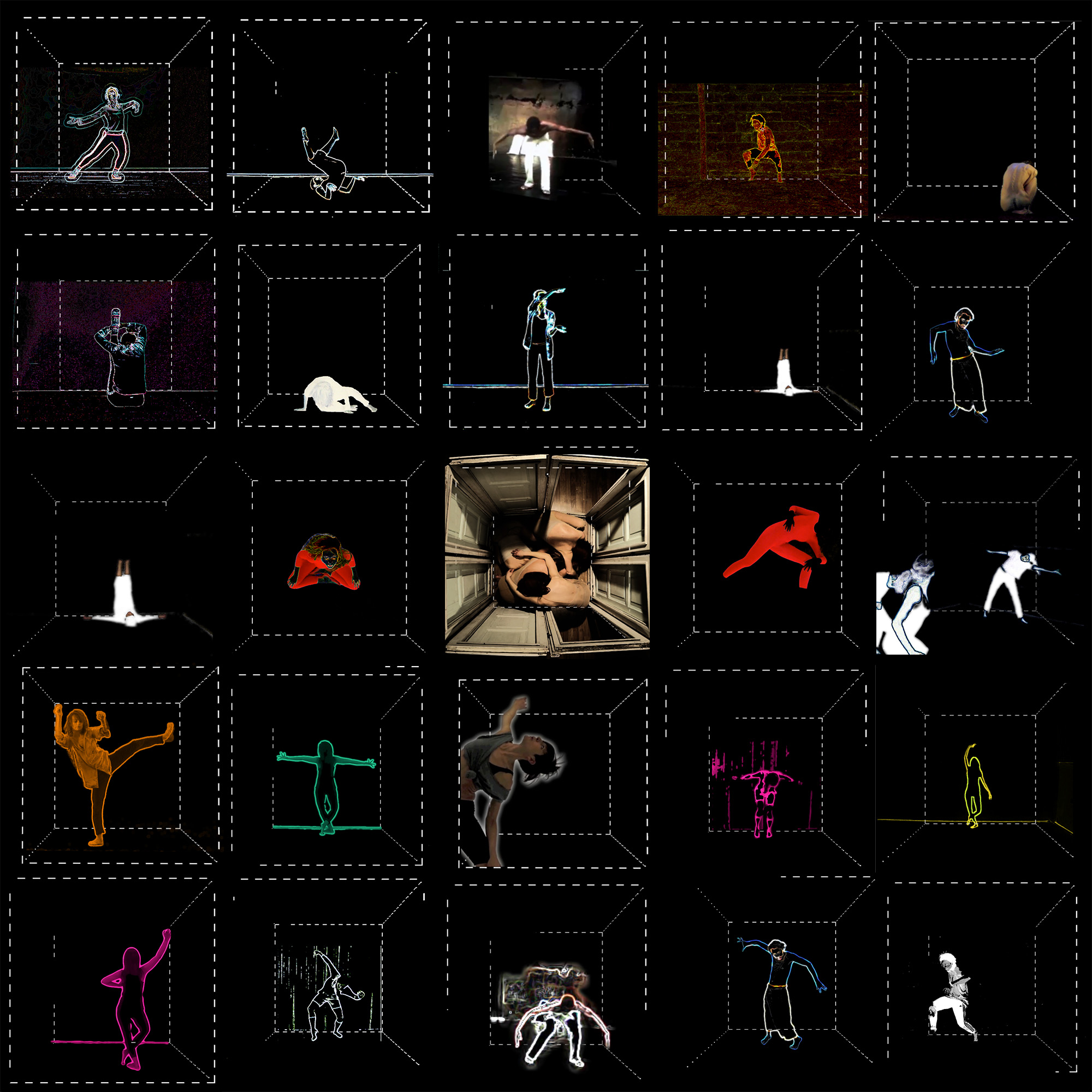 THE CALL FOR DANCERS/CHOREOGRAPHERS

This is a call for co-creation. This is a need of sharing together thought, an experiment of thinking together through the art creation.
Medialize.it is seeking for dancers/choreographers feeling comfortable and having experience with expressing a concept through their body's communicative flux.
An art experiment to produce together a collective meditation in motion about SPACE.
What is a closed space? What is an open place?
Two themes which can be expressed through the whole body's intelligence, resonating with its own noise, sound and breath. Every contribute, every single meditation, will become one collective composition of bodies in motion, one common, moving meditation which will enlighten, give new form and shape to selected public architectures.
This is an open invitation, clearly non conventional, where I kindly ask You to get in touch, communicate, discuss and develop together a common piece of art.
I would like to kindly ask You to interpret both the themes through an authentic and original speech/storytelling of the body, with Your own sound and noise moving in the space, with Your own breath vibration, using the movement as language to express the ideas of space's closure and openness.
Format
A video contribute: the format of the piece, for technical reasons, has to be a VIDEO, of good quality, made by any kind of support (camera, smartphone, camcorder, webcam, possibly setting an HD resolution). Preferred formats are Quicktime ".mov" or ".mp4" videos. This means that is not requested Your physical performance and presence in the selected locations. You can just send the recorded material via mail at pasquale.direse@medialize.it
Timing
- 1 minute performance expressing the concept of a CLOSED SPACE
- 1 minute performance expressing the concept of OPEN SPACE
They can be continuous or separated in two contents.
Space and sound
The space of the performance can be chosen freely by the performer.
The suggested borders can be as following but You are welcome to break and overcome limits as You prefer:
- to perform inside an imaginary space (volume) of 2x2x2 meters (or in a multiple measure which allows to "enclose" You inside a cubic space seen by camera)
- using a black or white uniform background or, where there is the availability, a green screen setup, which allows then a better elaboration of all the work
- using no other sounds then the ones of your body and breath in action.
(Below You can find a scheme of the kindly requested, possible positions of the shooting camera and a final output draft reconstructed for a public architecture to give you a better idea of the combination of the living units).
You are welcome to propose Your own idea!
The final composition will be a projection mapping piece of 255 voxels (volumetric elements) of performing bodies in motion, composing and remixing together into a complex meditation lasting about 10 minutes.

The video file/s can be sent via email, wetransfer, or other platform to the address pasquale.direse@medialize.it
The first envisaged project's deadline LIFELINE is February the 20th. This will allow to generate a first experiment and publication.
Public architectures will be selected for the exhibition of this co-creative work of New Media Public Art.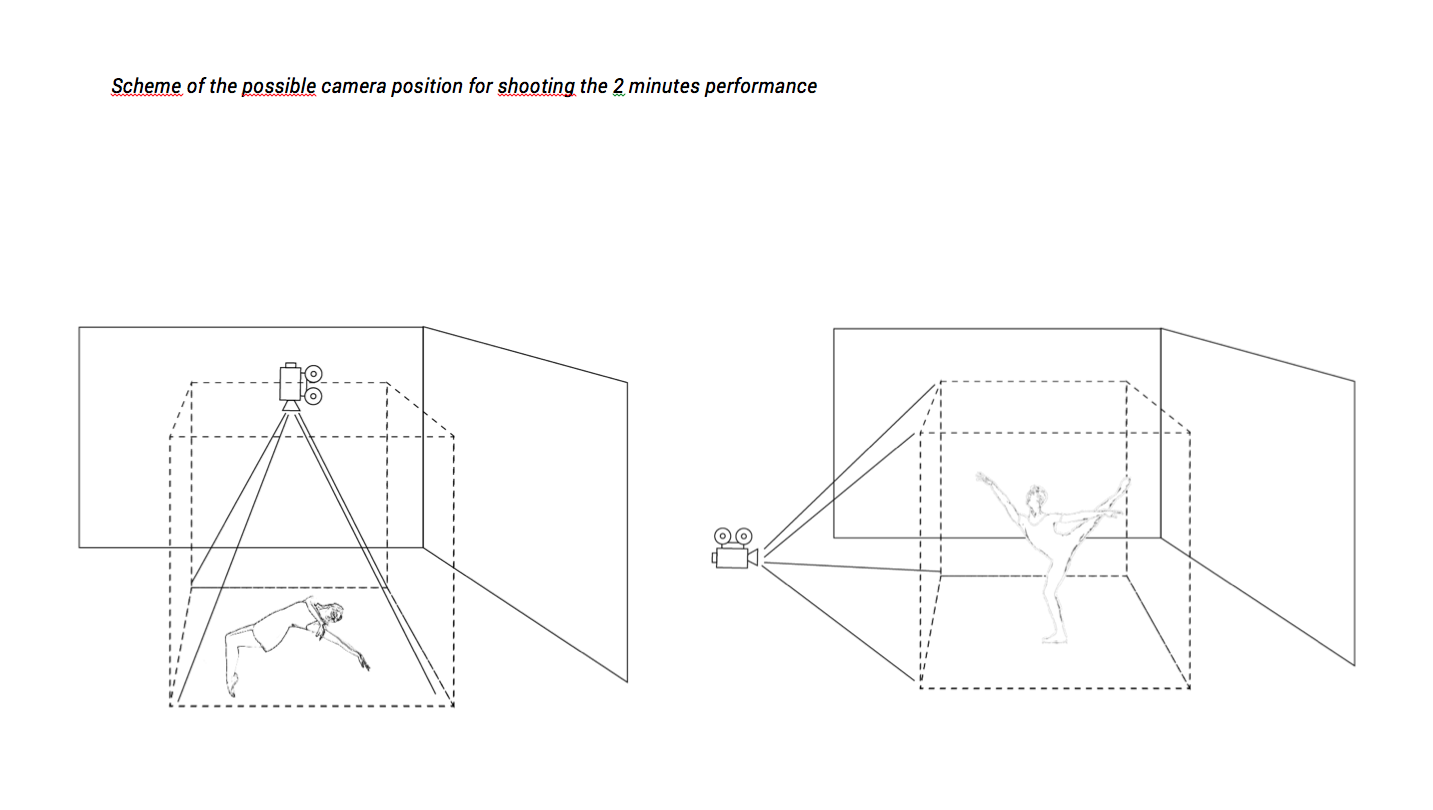 First envisaged location: ART ON THE MART specific proposal
We would like to express the first experiment of the Closed Space Open Place project and artistic research attempting the participation to the very challenging Call for public art, "Art on theMART" being the colossal Merchandise MART symbolic and culturally representative, in its uniqueness, of the contemporaneity. A "city within a city" will become a body within within bodies…
We would like to imagine this challenging architecture to become alive through the complex, open meditation of Closed Space Open Place.
A projection mapping metanarration of 10 minutes will see the entire building filled by units animated by performers from all over the world with their own original choreographies.
255 living, and dynamic "pixels" which will compose abstract colored forms and signes, text and lines, on the MART facade, with an inhedited remix of original sounds and images of true bodies in motion, "thinking" in action about the concept of the space.
An open "box" where dowel after dowel, card after card, all the mosaic of the building will be composed by a unique meditation in motion.

First envisaged project's deadline LIFELINE:
February 2019 . Performative video contributes will be welcome also after this envisaged timeline which will allow the composition and first exhibition/experiment of the project in a selected public space next summer.
Important note:
All the artists participating will be co-authors of the project and this way credited in all the further publications of the "Closed Space Open Place" Project. Same stays for the economical budget sharing of wished further realizations of the project.
Project's contact person:
Pasquale Direse, founder and director at Medialize.it, artist, interaction designer, new media art researcher, professor of "Methodology of the public art design" at the Academy of Fine Arts of Ravenna.